Brian Willson - Things Heard Unheard

THINGS HEARD UNHEARD is the first recording by Brian Willson as a leader. This recording is a combination of completely free improvisation and pieces based on certain ideas. Influenced by free jazz of the 60's, world music, and contemporary, Willson fuses these elements into a diverse amalgam of improvised music. This is the first musical meeting of this trio of gifted musicians. "On his first release as a leader, avant-jazz drummer Brian Willson is joined by pianist Yuko Fujiyama and bassist Dominic Duval. Things Heard Unheard" is an inspired collection of spontaneous and bold pieces. The trio excels at incantatory creation, as evidenced by meditative compositions "Birds in the Temple" and "Tibet." Gentle bells and gongs, ruminative drum rolls, and Duval's exploratory, glissando filled melodies make for beguiling stuff. The musicians are versatile in up-tempo contexts as well. Fujiyama fills "Fractals" with blazing cascades of angular flurries; Willson counters with a hale of cymbal fills. Best of all are the pieces that combine these two demeanors. "To Remember" pits the misterioso ambiance of the trio's more lyrical reflections against simmering and exploratory improvisations. The interplay of "Constellations" is also impressive. Fujiyama's treble excursions are offset by pliant baritone-register melodies for Duval; meanwhile, Willson creates a complex percussive architecture at the kit. A very satisfying evening's work, Things Heard Unheard leaves one excited to hear what Willson and company will do next.
DEEP LISTENING Records
Buy "Things Heard Unheard" at CD Baby
Katy Roberts Quintet - Live at L'Archipel
Katy Roberts has been on the Parisien scene since 1990 and has lead her own trio, quartet, and more recently, her quintet and septet. Her performances are top-notch, and the music has been quoted as "...jazz like we love it, swinging elegantly, moving the soul", (Jazz Magazine, April, 2003), "...power, energy and beauty, there is no shortage of swing here!",(Eric Jackson, WGBH radio, Boston), "...clean, angular phrasing full of stabbing chords..." (Cadence Magazine, Nov., 2003). Katy Roberts, piano, Salim Washington, saxophone, Rasul Siddick, trumpet, Dominique LaMerle, bass, Brian Willson, drums
Buy "Live at L'Archipel" at CD Baby
Songs From Another Place
This CD features soprano Monica Harte performing contemporary vocal chamber music. She is an extraordinary singer, and brings incredible musical life to these diverse pieces: Puerto Rican Songs, by Morris Lang; Songs From Another Place, by George Brunner; and The Visitation by Bern Herbolsheimer.
MSR Records
Buy at Amazon.com
Brian Willson - Border Crossing
Border Crossing, was born from pure inspiration at having met Antonio Arnedo while performing at the 9th Contemporary Music Festival in Bogotá, Colombia. When Antonio told me he was coming to New York I couldn't wait to play again and asked bassist Dominic Duval to complete the trio. Armed with nothing but a great meal (thanks to my wife Sonia) and a brief discussion of a few possible tunes we headed for the studio. The title reflects all that happened – the coming together of musicians from two continents – but also crossing the borders in our approach to some standard tunes – sometimes in, sometimes out, offset by several pieces that just started their own. The session was rounded out by Antonio's haunting Dibujo.
 NOTTWO Records
_
_
Available soon at CD Baby
Ivo Perelman - Mind Games
"The trio format is associated with the purest of free jazz motives, but if twenty years of experience has changed Perelman at all, it is to view freedom with the respect of an increased awareness of tradition. Reacting to Brian Willson's cascading drum accents and choir-like patterns, confident of Duval's unflinching bass foundation, the tenor saxophonist spins a somewhat lighter, more buoyant line, insinuating, if not betraying, harmonic resolution. Allusions to the past dot the emotional landscape – in "Primal defense," Perelman's reaching, exuberant intervals stretch the melodic contour, bathed in a lush tone featuring old-fashioned slurred notes (echoes of Webster and Gonsalves predominate). "Musical line," meanwhile, could be a subtle, detached "I Can't Get Started" paraphrase; swing motifs further curl their way into the tenor's lithe phrasing, underscored by Willson's brushes. The epic "G.S. Farewell" contains these same attitudes, and more – Willson's drums set a dancing precedent, to which tenor sax and bass gradually but resourcefully adjust, solidifying a group dynamic that develops through accelerated and ballad tempos, and perseveres.           Mind Games is a revealing document, disclosing the relationship in sound between three musicians, while adding a chapter to the ongoing story of one. If the trajectory of Perelman's improvisational line has evolved over twenty years, intensity and narrative passion remain. He is the sum of all he has done. Even as change occurs, from the proper perspective, time confirms an identity. " Art Lange, Chicago, August 2009 ©
LEO Records    
_
Available at Downtown Music Gallery
_
Alki Steriopoulos - Music For Sentient Beings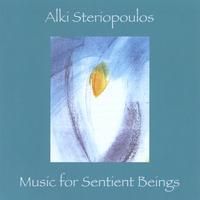 This is a beautiul record from the multi-talented Alki Steriopoulos. I got to play some pretty percussion sounds on top of beautiful music. It features Alki as composer and pianist, Brian Willson on percussion, Claudio Spiewak on acoustic guitar, and Jorge Alfano, playing flutes from around the world.
Buy "Music For Sentient Beings" at CD Baby
fdsafdsaf